THE JOURNEY TO LAOS AND ARTICLE22
By Elizabeth Suda, Founder of ARTICLE22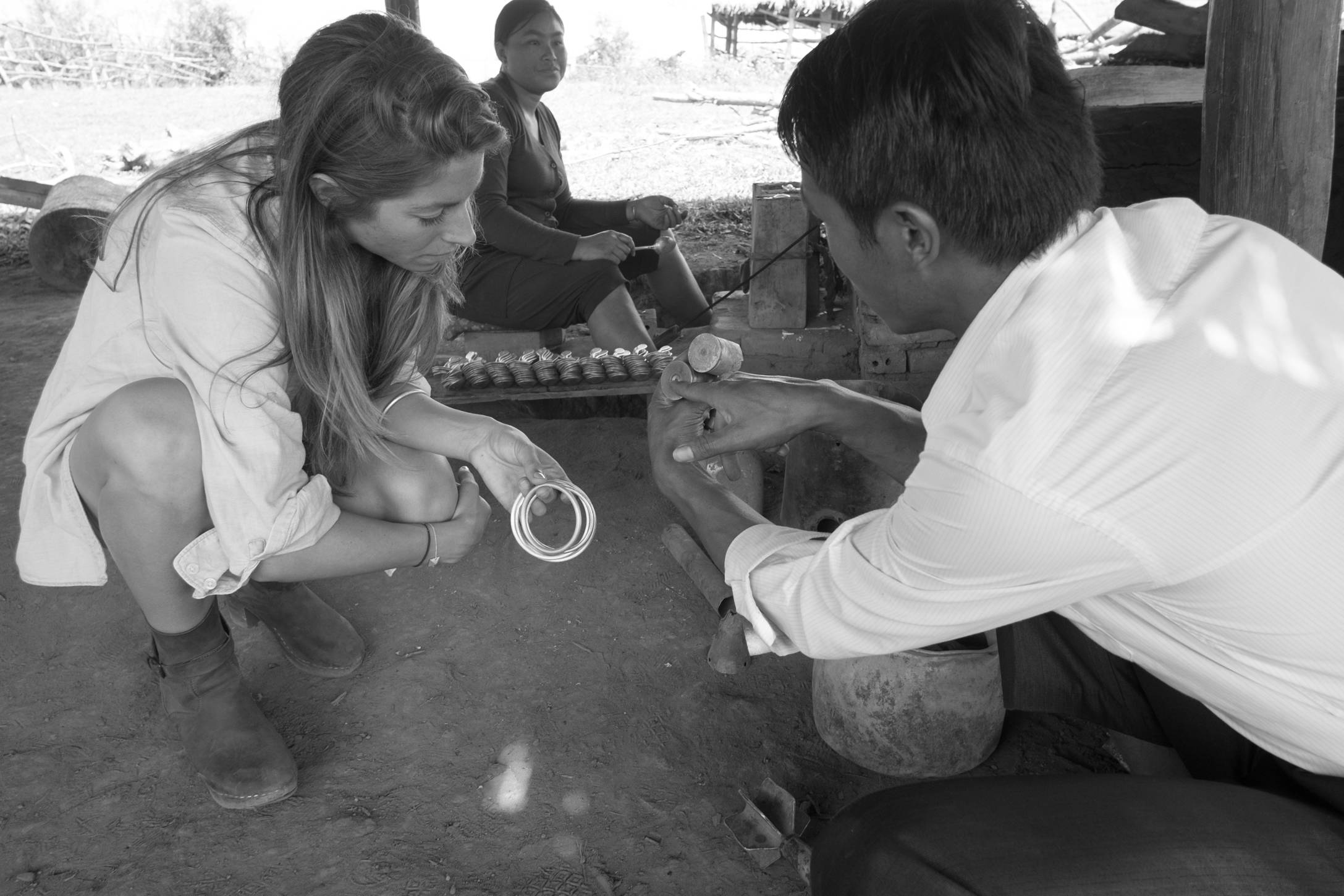 In 2007, I sat at my desk with glazed eyes. It was time for me to leave my job as a Merchandising Assistant at Coach, Inc. I had learned so much but I had become more curious about what sustainability could mean in the context of fashion. A rejection from the Fulbright Fellowship committee to study organic cotton in India brought me one of my best failures: it led me to Laos. I found a volunteer opportunity on a job site called Idealist.org that was filled with UN, World Bank, and other non-profit jobs and internships. Although I eventually declined the volunteer opportunity that I'd been offered (a raucous story better told with a Beer Lao) , I'd already purchased my plane fare to Laos.
But where was Laos? I could hardly locate this mysterious country on a map – that made me more curious, and a bit ashamed. My research uncovered a rich living culture of people who dye with organic materials and weave intricate textiles by hand. I read how the traditional sinh skirt is required to be worn for national holidays and public work life and even came across a blog that suggested that, in the past, the quality of a woman's weaving might determine the quality of her mate. Was that hyperbole?! Fascinated by what seemed to be immense cultural pride in this artform of visual narrative, I needed to know more. And more about these incredible natural dyes – stick lac, mud, leaves, seeds – that transform handspun silk into masterpieces of wearable art. I had a feeling the fast-paced global fashion community had much to learn from the traditional cultural bearers that I would soon meet. I was on my way to Vientiane!
My first nights in Bankgkok were overwhelming even though I had just come from the urban jungle of New York City. As I made the obligatory tourist trek through Khao San Road by night and temple hopped by day, my heart palpitated with overwhelm. In contrast with the first words I heard in the Vientiane airport: "bor penyang, no worries" the immigration officer repeated when I nervously explained that I'd left my passport sized photo in my checked luggage. No worries – it would just cost me an extra US dollar to process my visa without a photo. Phew.
"Bor penyang". Suddenly, it seemed ok that I didn't have a plan, or even a guesthouse reservation, as I stepped out of the airport and into the tuk tuk. The days that followed were full of visits to local textile workshops where I would learn how perceptions of what is "developed" and "undeveloped" were largely just that – perceptions. Because the kindness with which I was welcomed into these workshops, all run by women, showed me what it was to look at "development" from a totally different perspective. Some women would weave with their newborn babies by their side. This was a totally different version of "maternity leave" or, for that matter, "take your child to work day". And watching the natural dyers pour hundreds of years of knowledge into the dye cauldrons along with indigo leaves, seeds, or resin, also taught me that some of the best innovations are those that are still in practice hundreds of years later. Contrary to my "modern American" tendencies, perhaps new isn't always better?
So, when I met artisans in the north of Laos who were upcycling scrap metal into soup spoons, I was not entirely surprised. Limited resources had prompted artisans in this Xieng Khouang mountain village to be incredibly creative and resourceful by making garbage into useful and beautiful soup spoons. This had become a cottage industry that uplifted them out of subsistence farming poverty while quite literally feeding their neighbors.
The shock and horror was to discover where the scrap metal originated. A woman in the village grabbed my hand and led me to a shed full of scrap metal. She picked up a jagged piece with distinct English print that read ROCKET MORTAR. These were fragments of American bombs from the Secret War. A war I had not learned about in my History classes. And yet, I was confronted with physical relics from my country from a war that "never happened".
She picked up a jagged piece with distinct English print that read ROCKET MORTAR. These were fragments of American bombs from the Secret War. A war I had not learned about in my History classes.
"If they can make spoons, they can make bracelets" I thought, "and we will buy back the bombs". An aha moment, I could envision taking their local innovation making spoons to the global market with a bracelet that would bring more income into the community while also raising awareness of the 80 million unexploded bombs littering Laos and funds for MAG (Mines Advisory Group) to clear them. What if consumers across the world could by these meaningful pieces of history and fuel this virtuous circle?
But it took a year to make the first bracelet. When I asked my partner at Swiss NGO, Helvetas, why the hesitation, he explained to me "a lot of falang come here with ideas, but then nothing ever happens and they don't want to waste their time". It was a fair point, so I promised to make no promises except one: I would buy the first five hundred pieces. One spoon became one bracelet, then five hundred, then thousands, and eventually a whole range of jewelry.
A few years later, I understood something else that might have contributed to their hesitation. When I (somewhat sheepishly) asked the ARTICLE22 Country Manager, Manivone, how some women in the countryside could afford the gold necklaces they wore, she laughed and said "but Liz, that's their bank account". It was another example of how perception can be so different than reality. The artisans genuinely wondered "but who would buy bracelets" made from shrapnel and scrap? Of course, I also wondered whether people would buy them. But I didn't think about the fact that in some places people bought jewelry mostly for the intrinsic value of the metal itself.
Today, ARTICLE22 sells a range of meaningful jewelry to customers in over 30 countries. Each piece contributes to MAG to make land safe and to date, we have contributed to clear over 500,000 square meters of contaminated land. As of 2020, we co-sponsor a MAG emergency roving team in Khammouane Province which is able to respond to urgent calls from villagers and last week, they removed a 500 pound bomb the same day the request was called in.
As of 2020, ARTICLE22 co-sponsors a MAG emergency roving team in Khammouane Province which is able to respond to urgent calls from villagers and last week, they removed a 500 pound bomb the same day the request was called in.
I have learned so much from my friends in Laos and leaders like Legacies of War Founder Channapha Channapha Khamvongsa, Executive Director Sera Koulabdara, and Board Chair Alex Hiniker. I have learned patience. At the current rate of removal, it will take decades to clear the land – but it is possible in our lifetime, as Channapha's words so often echo in my head. In tandem, Sera reminds me that the care we take of ourselves and our community by uplifting one another is what allows the work to go on, as long as it needs to, carried on from one generation to the next. While Alex's work advancing Sustainable Development Goals reinforces the strength of my belief in the critical need for cross-industry collaboration and civic engagement.
I have also learned from them that sustainability is itself a mindset that is rooted in culture. I see how it is woven into the fabric of society in many communities in Laos, daily practices and beliefs.
It is fragile because as long as it takes to weave, it can be destroyed overnight when there's too much imbalance bet

ween the economic, environmental, social, and cultural. That is why pursuing a path toward sustainability in fashion and across industries in the days and decades ahead requires an interdisciplinary approach. It requires businesses to have missions beyond profit, and it requires those businesses to collaborate with governments and nonprofits. It requires inclusivity intersectionality, accurate histories, and public private partnership. It requires citizen activists who take the time to vote at the ballot machine as well as the cash register.
You cannot quantify peace of mind. You cannot quantify inner peace.
That is why I named ARTICLE22 after the Universal Declaration of Human Rights. And while these ideas are big and broad, I constantly return to what I have learned from my Laotian partners, leaders, and activists like Legacies of War team and Fred Branfman – patience and the power of long term commitment, balanced with focus on the present moment. I wish to see all the bombs cleared in Laos. But in the meantime, I count every bracelet sold and every square-meter of land cleared as its own triumph. Because incremental change adds up even though it's not always quantifiable. Because how can you quantify the peace of mind of a farmer who no longer has to grow rice in fear? Or a mother and father who no longer have to worry that their child might pick up a cluster bomb, mistaking it for a toy? You cannot quantify inner peace.
The first time I was asked why I do this was at the International Convention on Cluster Munitions in Vientiane in 2010 by author and activist, Fred Branfman. He was the man who testified before an unwitting Congress, that despite a treaty that deemed Laos neutral, there were daily clandestine bombing raids indiscriminately killing innocent civilians. In our short documentary made that year, Buying Back the Bombs, Fred told me, "It shook me up on the deepest level possible, because it meant that everything I had been taught and everything I believed about America wasn't true." I'm not sure that I answered Fred that day, but what I know is that I wanted the things I had learned about my beloved and highly, highly imperfect country to be true.
People in Laos who are most affected by the legacy of war are doing something about it with creativity and love.
What I also know is that while humanity currently faces many challenges, there are many individuals and organizations like Legacies of War that are doing so much good in a joyous way that is guided with love. ARTICLE22 jewelry has become a canvas for the messages of some leaders who envision and inspire action toward a more just and sustainable future. That is how our TRAILBLAZER collaboration with Legacies of War was born. As the torch has been passed to Sera as Executive Director and Alex Hiniker as Board Chair to light new legacies, they are inspiring a new generation of advocacy which will, in turn, inspire a new generation to follow. Just as the Lao artisans and deminers we work with are agents of change in a virtuous circle that helps decontaminate their very own land, our TRAILBLAZER Campaign with Legacies of War celebrates the trailblazing work of artists and activists who are transforming the world with their talents in big and small ways. The reality is that we are all in this together – whether this is climate change, human rights, or a pandemic. Our jewelry is a reminder of our interconnection through these transformed pieces of history, that show how people in Laos who are most affected by the legacy of war are doing something about it with creativity and love.
---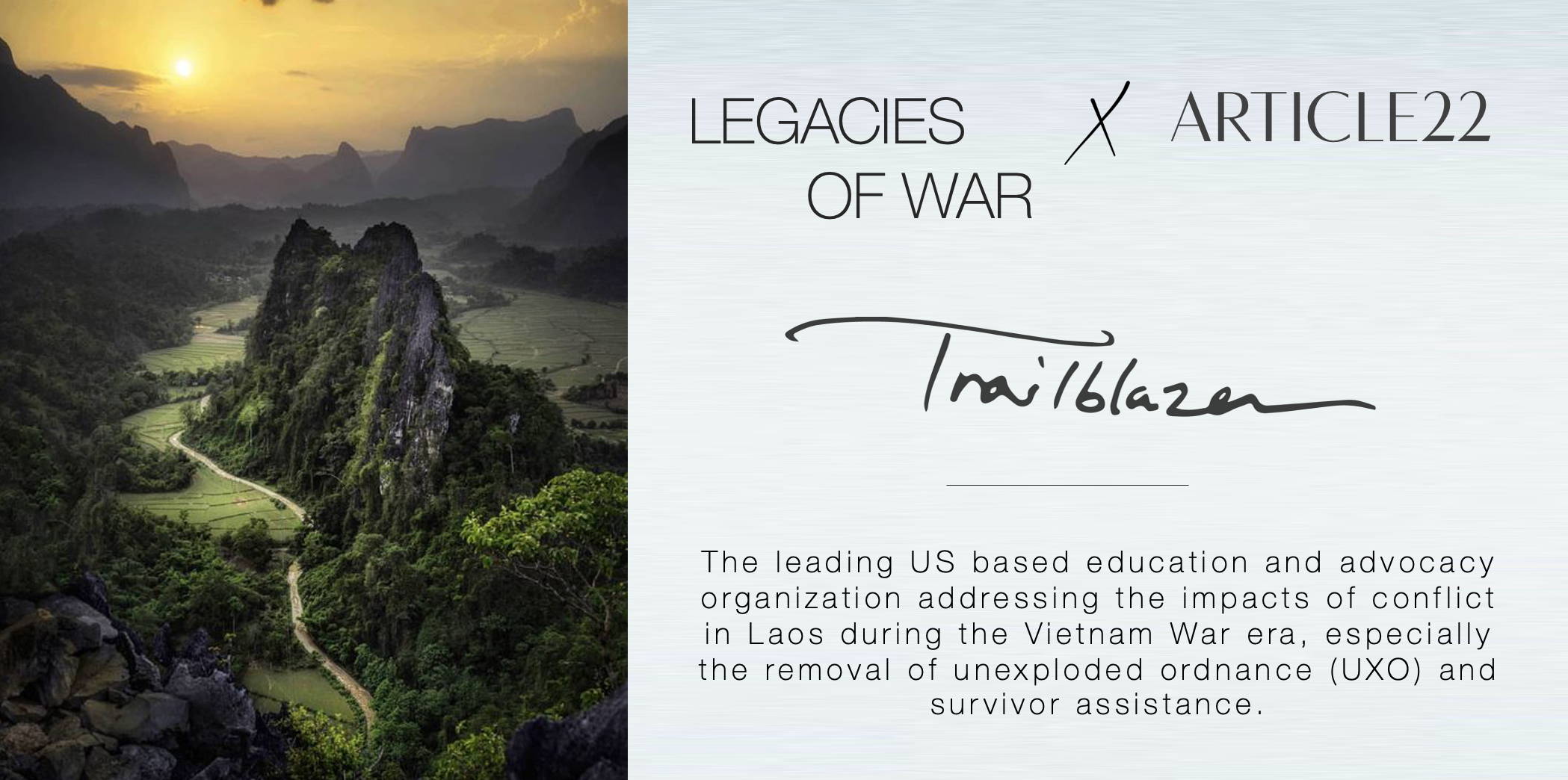 ---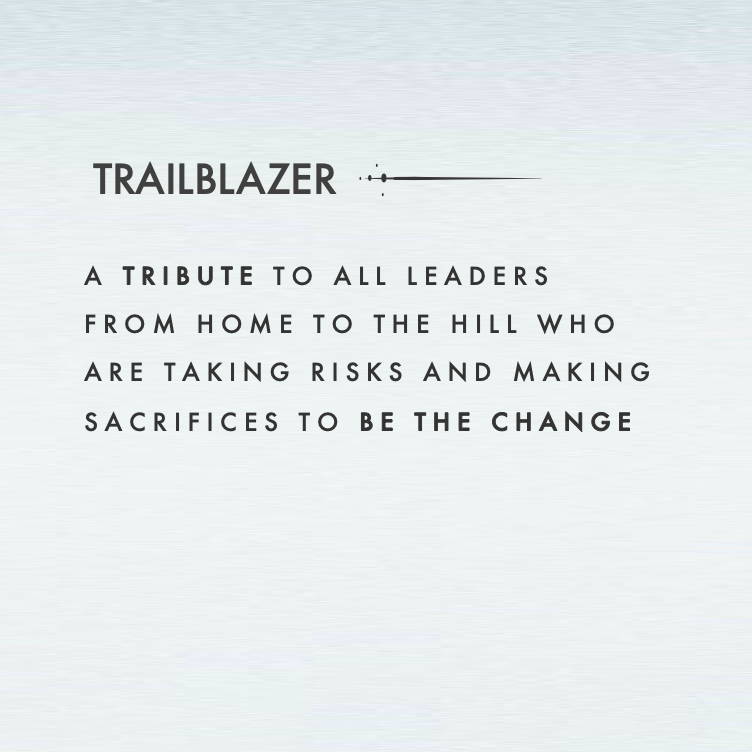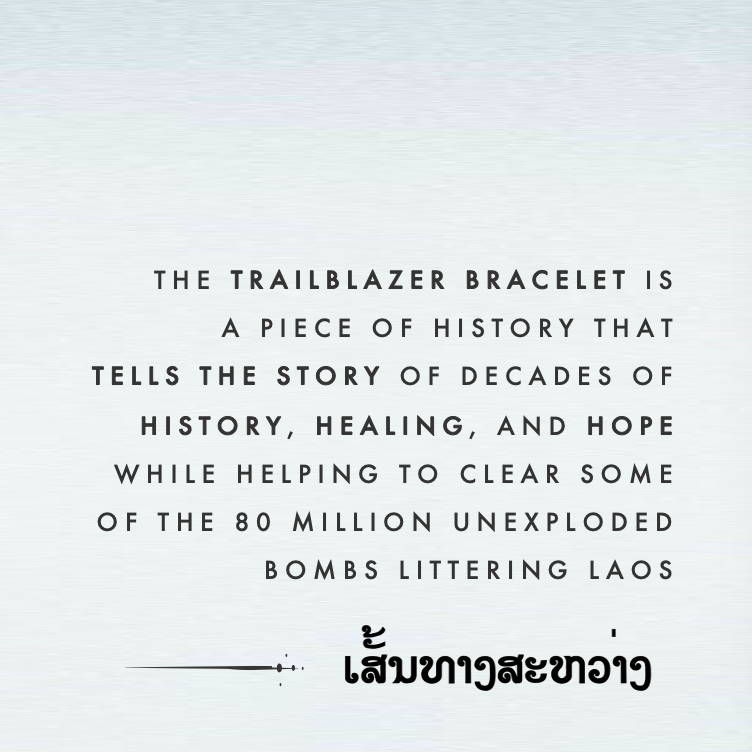 ---
MEET THE TRAILBLAZERS OF LEGACIES OF WAR


CHANNAPHA KHAMVONGSA
Legacies of War Founder


There are many, many problems in this world that might not be able to be solved in a lifetime, but this is one that can be fixed. Given that it was ignored for so long, we need to redouble our efforts and finish the job.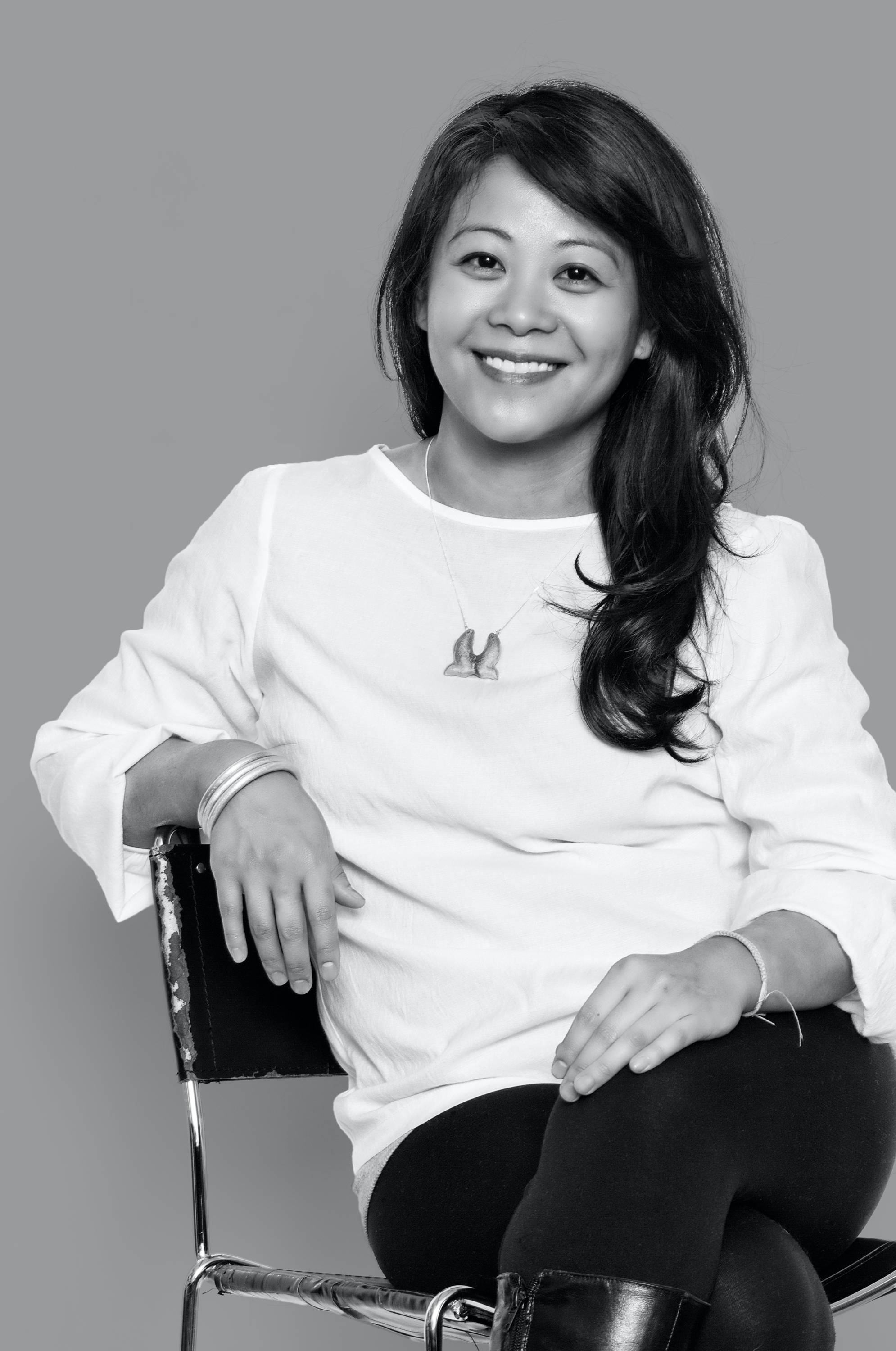 I think for many of us who grew up here as refugees from Laos, it really felt that we didn't matter and where our families came from didn't matter. So for a long time, I didn't know much about the history of why we came here and how we got here.
Then as I got older I started to learn more about the immense role the US played in Laos during the Vietnam war era. And it was not a small role at all, but yet no one in the US knew about it. How was that possible? And so as I got older I started to learn more. I went on to do non-profit work and I ended up here in New York working at the Ford Foundation and I was doing work all around the world on justice, but nothing on Laos. One day I met with a grant organization working on democracy in the US. It was a domestic program, nothing to do with Southeast Asia, but it turned out the executive director had a history with Laos. He said a long time ago he worked with a guy named Fred Branfman, "have you heard of him"? I said no and he said, "well he worked really hard to try and stop the bombings in the 70s that were taking place all over Southeast Asia". I was shocked because I didn't think anyone cared about Laos, but yet there was this whole group of individuals here in the US who cared deeply about what was happening in my former homeland. These moments were the original catalyst for the founding of Legacies and connected us to a history that we had lost for so long.
---
SERA KOULABDARA
Legacies of War Executive Director


The most important thing that my parents both taught my siblings and I is that what you leave behind is so much more important than what you take.
What guides me in life are the many teachings of my mother and father. My mother is one of the strongest women I know. Through her, I learned to stand up for myself and choose my battles. My father shared painful memories of the devastating effect the Secret War had on him and the people he loved. These horrific experiences led my father to live a life full of love, compassion, and service to others as a doctor—I hope to carry his legacy to the next generation, create hope, and make a positive impact in the lives of people in my father's beloved homeland, Laos.The most important thing that my parents both taught my siblings and I is that what you leave behind is so much more important than what you take. When I'm stuck on a decision, I reflect back on these words.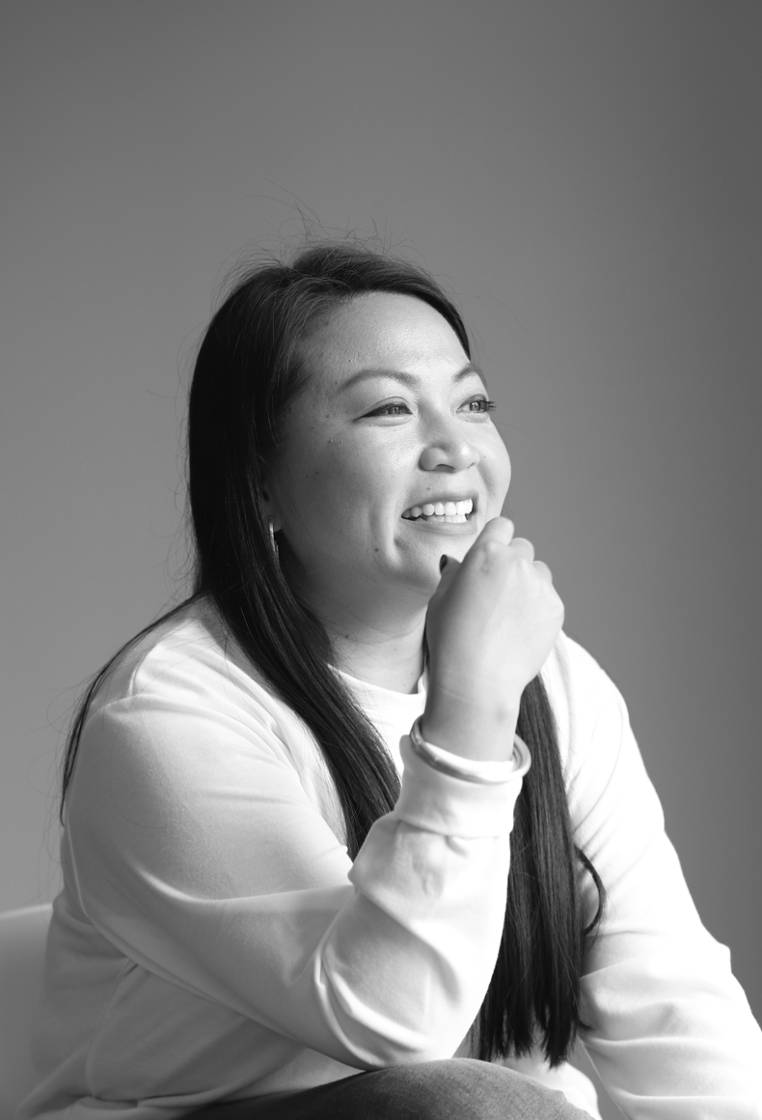 ---
---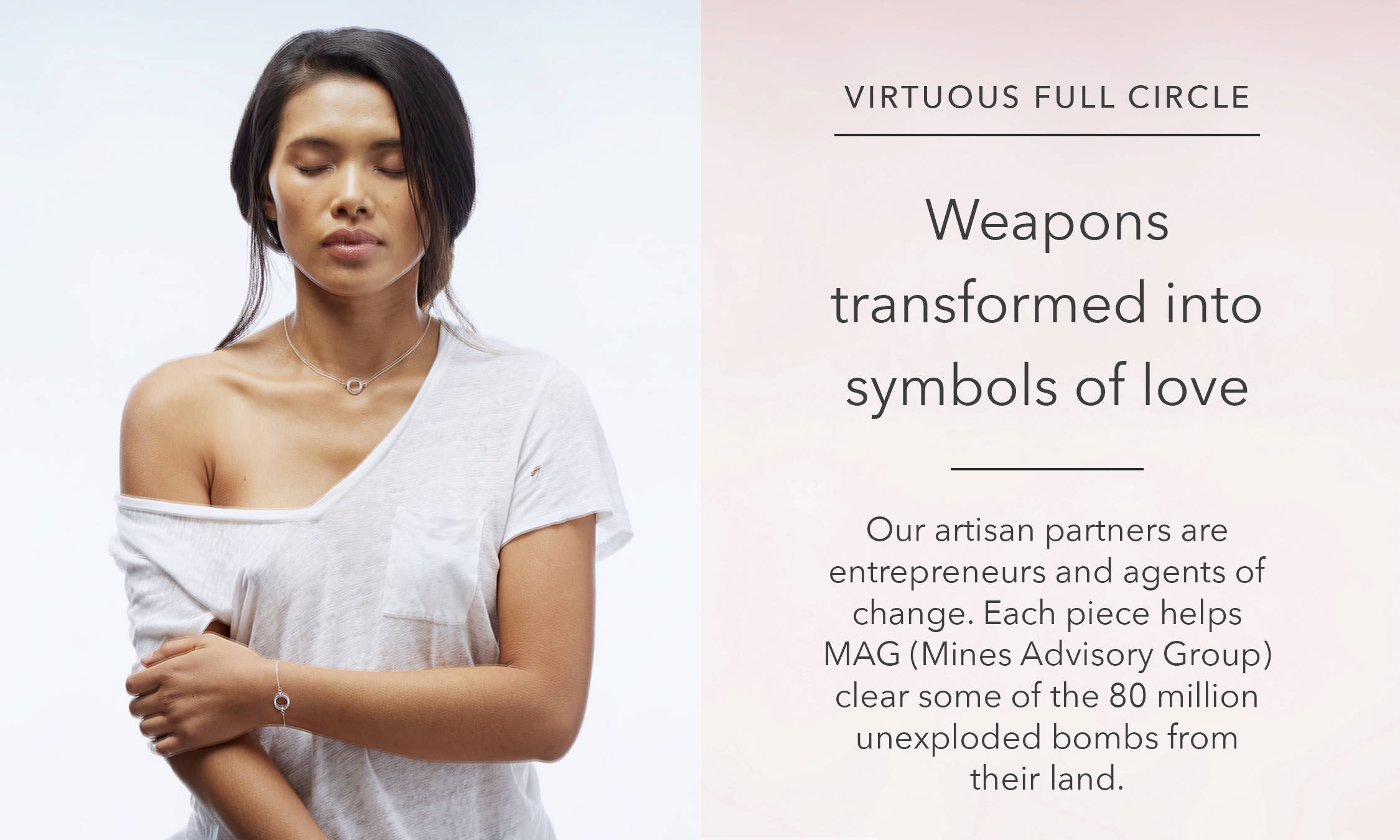 Our artisan partners are entrepreneurs and agents of change. Each piece helps MAG (Mines Advisory Group) clear some of the 80 million unexploded bombs from their land.