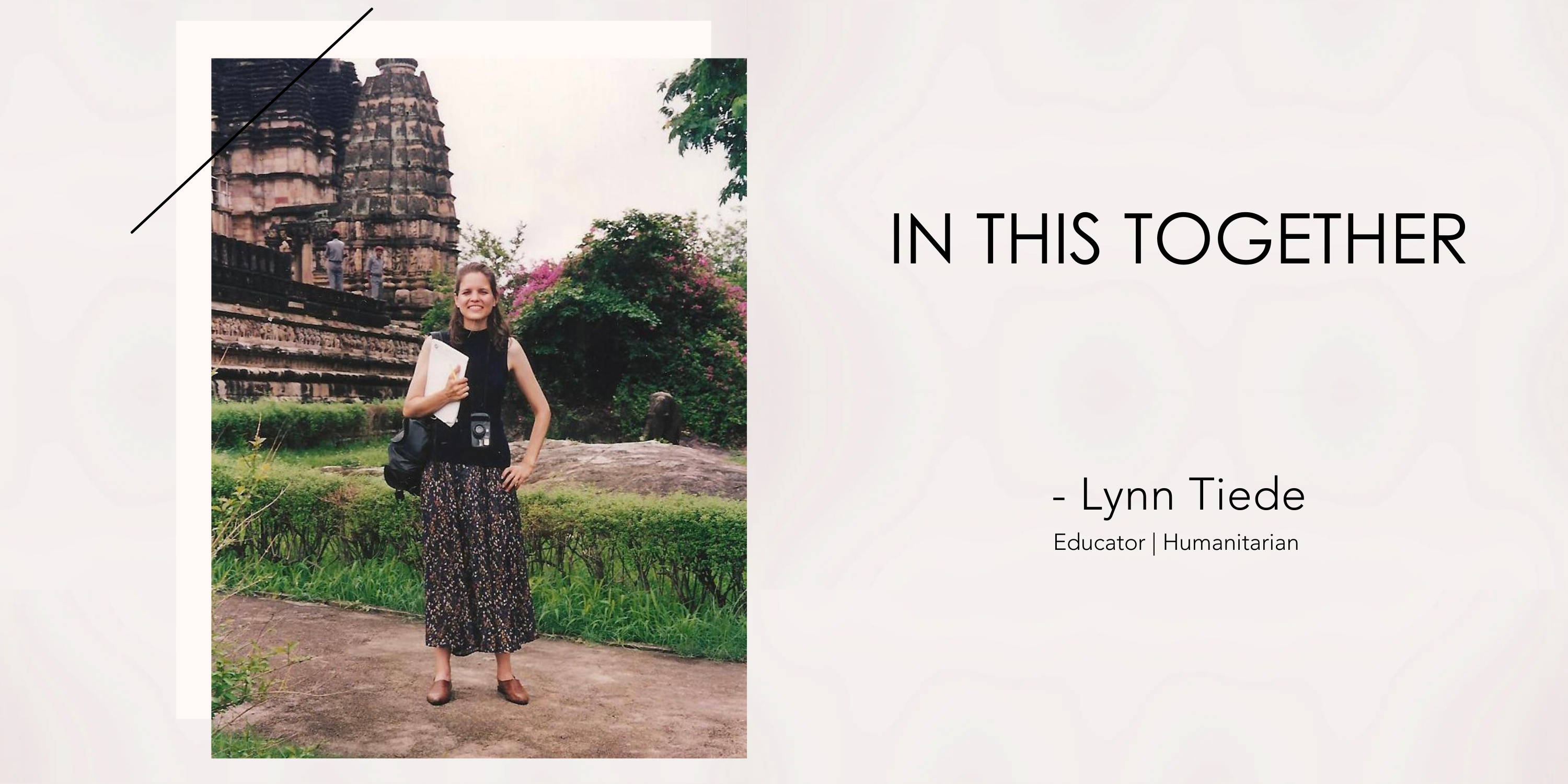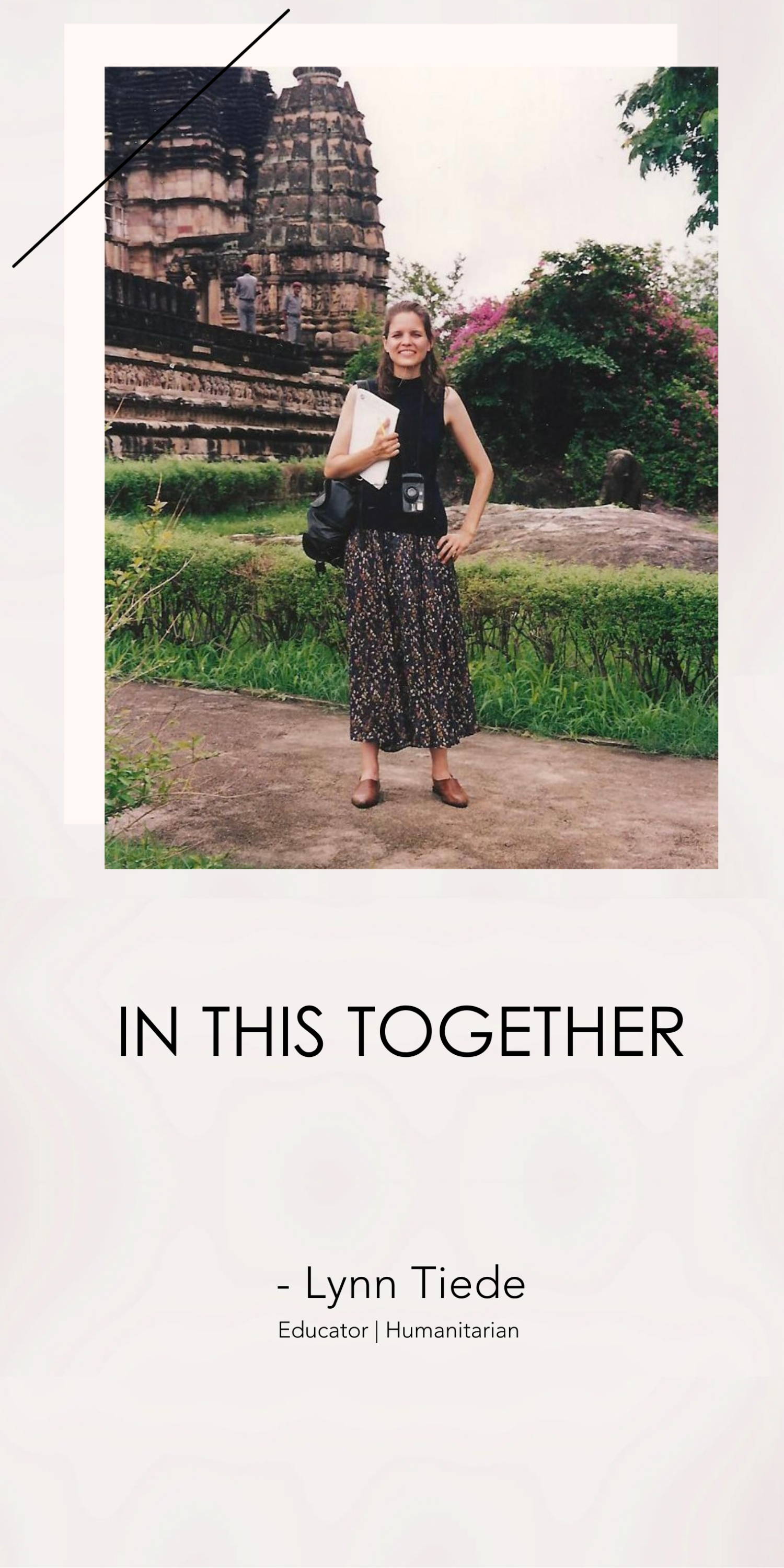 Fulbright Indo-American Environmental Leadership Award recipient, Lynn Tiede.
---
"People have to have the courage and choose to act and do the work to solve social, environmental, and political with commitment and great attention to detail."
You in a word -
Humanitarian.
On you –
I was born in Madison, Wisconsin, but after that my father's profession kept us moving—Texas, Belgium, Virginia, Tennessee, Germany. I went to college in Memphis, TN, while my parents were still stationed in Germany and was able to spend summers and a gap year after college travelling, volunteering, and working in Europe. Home today is New York City. January 2021 will be 30 years here in NYC- the longest I've lived anywhere!
On profession –
Having lived, travelled, and experienced global realities while pursuing my degree in Anthropology/Sociology, I knew I wanted a career where I was actively impacting and hopefully transforming lives in some way. I knew I didn't want to head to graduate school right away and was anxious to start out on my own. I realized that teaching secondary level social studies in NYC would allow me to continue learning and growing in knowledge of the world but also share all of that with my students. When I was initially hired as a teacher, my principal didn't even have a social studies teacher position to offer when I walked into the school to drop off my resume—I first was a writing teacher. Later, along with teaching social studies full time, I earned an M.A. in environmental education and have taught about sustainability in the non-profit sector as well as being a sustainability coordinator at my school.
On a moment of transformation –
The moments that I have witnessed the most extreme poverty that exists in the world have most shaped me. I first witnessed this on a college spring break work trip to Reynosa, Mexico. We were helping to build a vocational school for a community that literally was living in a garbage dump, while people extracted, recycled, and sold resources collected from the dump. In 1991, I worked with ATD-Quart Monde (Fourth World Movement) near Paris, France. I lived with other volunteers in a very poor suburban area of Paris, and I saw the face of extreme urban poverty. These experiences, and others, have instilled in me the deepest desire to use my own political and economic power & privilege, and my life work as an educator, to co-create a world where this no longer exists.
On a formative influence –
My grandparents' homes in Madison and Evansville, Wisconsin are extremely formative places. Since we moved so much, until I settled in NYC, their homes were the hub of our family. I have always felt so grateful for having been able to get to know and learn the wisdom of all four of my grandparents who lived into their 70's and beyond. They taught me core values—respect, integrity, commitment, love, joy, faith, appreciation of nature and good health, and instilled a tremendous work ethic.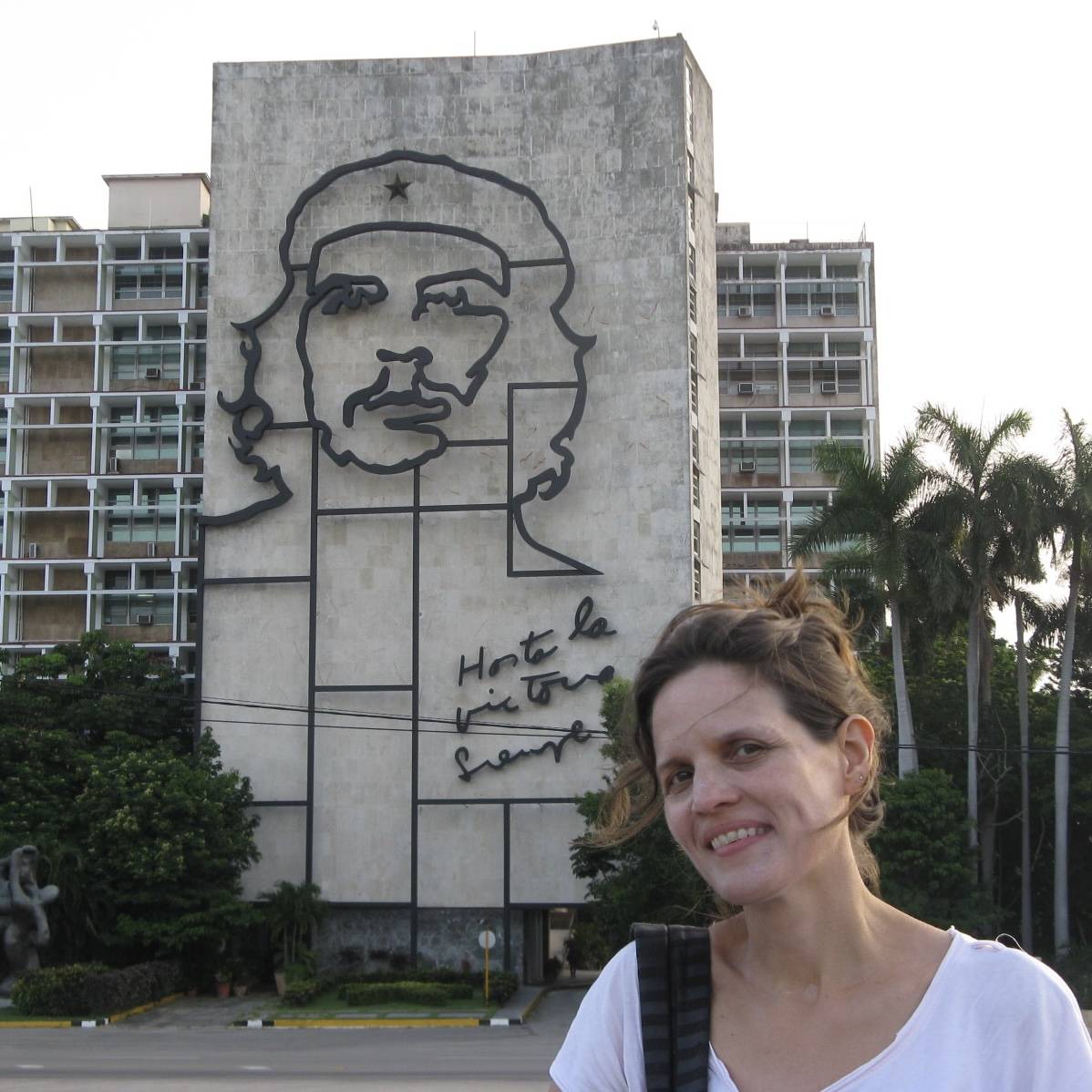 "Problems can't solve themselves-it takes effort, coordination, and vision. We have to believe it's possible to solve the challenges and then figure out the steps to do so and adapt as conditions change."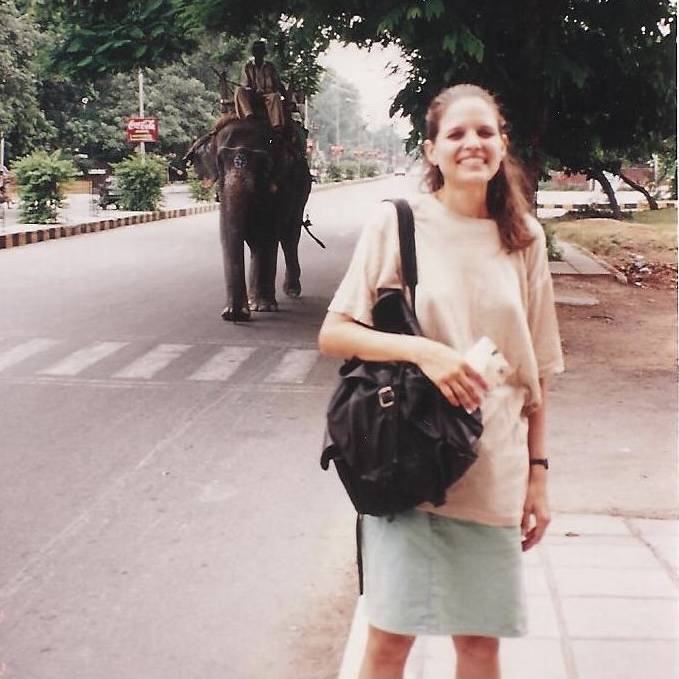 On your mantra -
Care, Know, Act. I teach my students this mantra—it should be the mantra of every citizen. One must have empathy, love, and concern for people and the planet. You must be informed about the variety of perspectives on the issues, the avenues of change, and then must act upon that conviction and analysis.
What are you most excited about in the next 12 months?
Despite the overwhelming, frightening, and hopeless challenges since the pandemic began, I am deeply in touch with the fact that this is a pivotal turning point in history. The world reality that so many environmentalists, humanitarians, and global citizens envision can emerge if we individually and collectively manifest this vision now. The mass connection through social media and technology that has replaced in person events, the mutual aid networks, the clarity of vision of youth, BIPOC, and other activists around the world and the combined experiential realities of the pandemic have forced us to take stock and re-evaluate priorities. This heightened awareness has already caused us to evolve as a species. I look forward to leading my students through this transformational year, helping them make sense of it, and have confidence in their power to shape the future to reclaim our democracy.
On ARTICLE22 -
I love the deep integrity of the mission and purpose of ARTICLE22 and how this is transformed into actual beautiful material objects that symbolically reflect that goal of justice and healing of historical wounds. I first came across ARTICLE22 at one of the Holiday Markets in NYC and was blown away. When I learned about all of the layers of ARTICLE22 –its basis in the Universal Declaration of Human Rights, it's goal to teach the history of the forgotten aspect of the Vietnam war in Laos, all while providing economic opportunity and social and cultural cooperation and the removal of land mines—it was like a rare ever unfolding flower—lots of nuances, depth, and integrity.
On development -
My experiences have taught me about humanity's common longing for peace, love, happiness, community, and economic security. It also allowed me to fully appreciate the incredible diversity of ways of life around the world and creative spirit within us. However, I can see more clearly the privileges of us living in the West and the damage broader U.S. policy choices throughout history and our way of life has caused, especially on the environment and economic inequality. We have lost so much in our fast paced, mass consumer oriented individualistic lifestyles and promoted many imbalanced ways of living.
Another big takeaway from all my experiences, is that people have to have the courage and CHOOSE to act and do the work to solve social, environmental, and political with commitment and great attention to detail. The problems can't solve themselves-it takes effort, coordination, and vision. We have to believe it's possible to solve the challenges and then figure out the steps to do so and adapt as conditions change. Again, great organizations and individual activists all over the world embrace this space and are my heroes.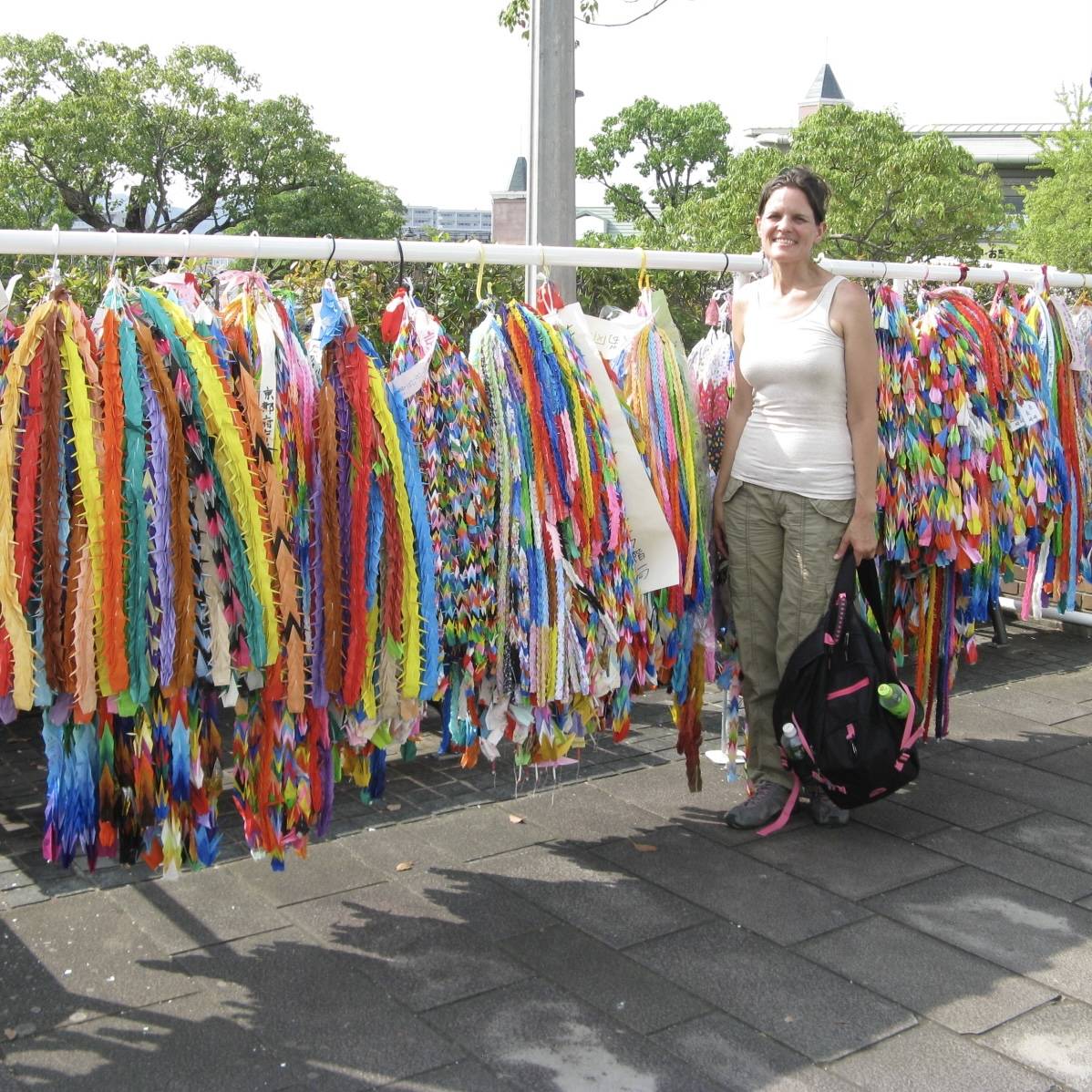 "It's critical to build bonds with one's students in person during these formative years- and I'm not sure how I can do that remotely."
On COVID-19's impact in education -
Being an empathic person who feels deeply and tries and needs to stay aware of all that is going on for my work, has made this a very difficult period. Watching the loss of life, the economic hardship, the emotional and social fraying, and impacts on the most vulnerable globally, including some of my students' families, has been overwhelming to process. Having to experience all this, and still be present and motivating for my students was extremely challenging.
The logistics of quickly shifting to remote teaching have also been hugely disconcerting for me. My hands on, project based and interpersonal teaching style in a real setting was one of my greatest strengths in getting to know students and form relationships. There is not an easy way to do that looking at Zoom boxes on a screen. It's critical to build bonds with one's students in person during these formative years—and I'm not sure how I can do that remotely. It actually takes more time to do everything online--digital lessons, typing, answering & organizing emails, setting up meetings, hosting meetings, learning tech platforms, grading assignments, entering grades…the list goes on, and drains you. How do you then have the energy to be human and present and slow down enough to know your 100+ students in this reality?
The silver lining for me personally is that with a more stream lined lifestyle, I became more intentional about cultivating time to reflect, purge old files, closets, and reconnect with friends and family that felt impossible with busy pre-pandemic lives and schedules. The slowing down of life—even something simple as having 30 minutes to drink a cup of tea in the morning—versus my normal five minute gulp—created a healthier balance… habits which I hope to maintain.
"...as a society we are still trying to squeeze a 21st century reality of teaching into a 19th-20th century box."
On hope for the education system -
The longer I have taught, the more this realization has crystallized. The problem is not that teachers are just "not good teachers"—although we all do certainly have our own aptitudes for the multifaceted aspects of teaching. It's not necessarily that we need better quality materials or simply fewer kids in each classroom either. It's not that public schools are incompetent and charter and private have the answers. What really is the elephant in the room is the overall load and comprehensive demands of our job—not having the time and space to execute them consistently at a high-quality level. A short list of the basic responsibilities of teachers are teaching--performing on stage really-- five periods with 34 kids each (some with specialized educational needs too). You get 1 lunch period, and two more total for writing lesson plans, grading the work, building relationships with parents, kids, fellow staff, and attending logistical and planning meetings, and finding time for professional development and staying up to date in your content area.
As time has gone on this has evolved and added new dimensions –such as responding to emails, maintaining a website, and being culturally responsive, trauma informed, and being more attentive to the intense demands of social and emotional relationships and school community building. This load grows bigger for teachers at schools with few counselors and social workers. Despite teachers on the ground understanding this, and academic scholarship starting to acknowledge what this entire load actually is, as a society we are still trying to squeeze a 21st century reality of teaching into a 19th-20th century box. We need an entirely redesigned contract that reflects our job demands and honors the intense creative space that academic teaching is, and provides for real balance and self-care mechanisms so that teachers have the mental energy needed to sustain relationships and knowledge of students and parents that will foster their trust and growth, and allow us to effectively intervene when students are struggling.  
I spend at least 25 hours extra a week beyond my official work day, engaging in all these tasks, and still often feel like I'm not doing the quality of work that I would actually be capable of if the job description was more reasonably matched with the time that it actually takes to do the work. Obviously this imbalanced work/life dynamic is why so many people leave, and we then lose the expertise and mastery that can emerge over a career. As a society we've made a collective choice to not fund or re-imagine our public schools adequately in order to staff and be able to re-distribute the work load more equitably so that we get the best final possible product. Fundamentally revising teachers' contract and job description would provide more quality education, a shift away from testing and more time for project based instruction, and more authentic learning that is focused on relationship building and meeting students where they are individually to engage and inspire them. It would prevent burnout in teachers.
I think that is what is making me hopeful about this Covid moment and its impacts on education. We are realizing we can change—and we can change radically and quickly and we need to value physical, social, emotional, and communal health and our humanity as much as knowledge and skills acquisition—especially for the most vulnerable. Issues of equity for the poorest and most marginalized—so often brown and Black communities—are coming to the forefront with the technology gap. Many students all along did not have computers or wifi—but that unaddressed problem was quickly investigated in March with donations and quick funding of computers and hotspots to ensure every household could access remote learning. This focus on learning and accessibility of technology will better prepare kids for the work world of tomorrow and is fostering more independence in learning, so those are positive Covid impacts.
Schools are not just factory like entities spitting out kids who have passed tests, have a diploma, and can manage college. They are essential facet of our democracy. It's where children of all different backgrounds should be interacting and learning to get along, compromise, and engage as citizens in a democratic society. It's where children should be getting support and opportunities to become their best selves beyond their particular family situations. It's a place where we can interact as friends and learn how to live in community and feel valued and purposeful. It's where we can celebrate the incredible achievements, heal the sad realities of our past history through civil dialogue and reflection, and envision the future. I think students, parents, teachers will fight for whatever emerges next to be committed to this more than ever.
---